Description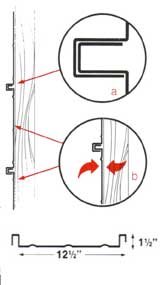 The Commercial 84 panel is ideal for commercial buildings as well as residential homes.
This is a concept based on the PERMALOCK system through which each panel is sturdily locked full length. Every attachment point becomes thicker as well as their sizes is doubled , improving protection of architectural components covered with Commercial 84.
Through the wide range of colors available, it is possible to create a harmony in connection with the design.
Commercial 84 flexibility is building-up a growing popularity with contractors as well as consumers. Commercial 84 may be used in home improvements and building of new sites. In fact, this new pre-finished panel can be installed in any way and highlights every pieces of architecture.
It is perfectly suited for mobile homes.
Click here to see a specsheet.