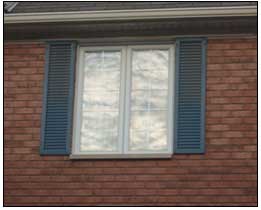 Made to measure according to the dimensions of your windows
We make beautiful shutters in the Louver and Colonial style.
An exterior shutter is an affordable way to add value and appeal to your home. When you choose our Louver or Colonial style shutters, you will receive a pair of beautiful, maintenance-free shutters made of lightweight aluminum and with over 50 colours to choose from! The shutters will be created according to the specific measurements of your windows. This ensures that the product fits perfectly and offers optimal coverage, aesthetics and functionality. This is different from "off the shelf" products, which are prefabricated and may not perfectly meet your needs.
Many colours of shutters available!
With more than 50 colours available, you can find the perfect colour for your home. Whether you're looking for a bold, striking colour or a more subdued neutral tone, our selection of Louver shutters offers something for everyone. They are perfect for both traditional and contemporary homes and can be customised to suit all window sizes and shapes.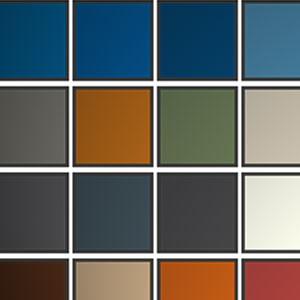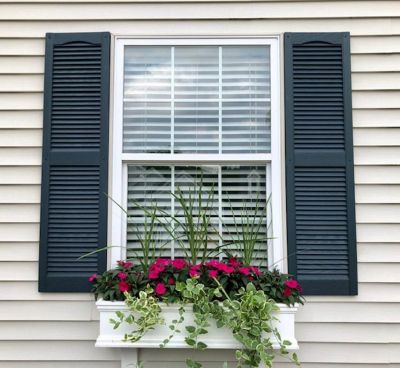 Why do shutters add value to your home?
Shutters are an elegant and aesthetic addition to any home. They come in a wide variety of colours and styles, and can be customized to fit any size and shape of window.
They are made from aluminum, and can withstand weather, wear and tear and exposure to the sun. This means they can last for many years if properly maintained, giving a good return on investment.
Finally, shutters are also versatile and can be used in a variety of environments such as homes, offices and commercial spaces, making them attractive to potential buyers.
What is the difference between the Louver and Colonial styles?
Louver style shutters are made of aluminum and are usually mounted next to the window frame. Louvered shutters are popular for their classic, timeless look and durability.
Colonial style shutters, on the other hand, are characterised by their traditional and simple design. They have a rectangular shape and are also made of aluminum. They have no slats or louvers and are generally used for decoration rather than light or privacy control. They are mounted on the outside of the window frame and are often painted in a colour that contrasts with the house. Colonial shutters are popular for their ability to add a traditional and classic look to a home, and for their ability to provide a historic aesthetic.