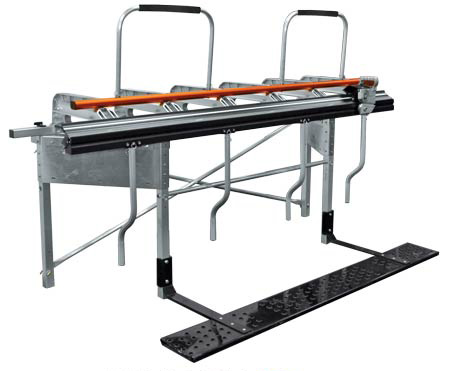 TAPCO MX SERIES
Quality features inside and out ensure the MX Series — combining an MX Series brake, an MX Stand and adjustable MAX cut-off — delivers heavy-duty bending power without sacrificing precision.
Stable and tough, the MX Series brake features double-walled pivot arms for added strength, along with die castings with reinforcing ribs for increased bending performance and reduced deflection. The trapezoidal, wide-plank MX Stand offers stability, and the adjustable MAX Cut-Off shear ensures precise, factory-quality cuts to eliminate the need for unsafe, repetitive utility knife and sheer cutting.
Ergonomic handles for superior grip and added leverage
Easy-maintenance moving hinge system increases bending power without marring material
Available Lengths: 8′ 6″, 10′ 6″ and 12′ 6″
Weight: 8′ 6″ brake, 314 lbs; 10′ 6″ brake, 325 lbs; 12′ 6″ brake 341 lbs.
Throat Depth: 19-5/8″
Mouth Opening: 1-7/16″
Total stability
MX Stand offers complete stability with its trapezoidal design.
Wider plank increases stability while bending.
Bending capacities
All Vinyl
Sheet Aluminum up to 16 ga. (.050)
Galvanized up to 22 ga.
CR Sheet & Coil Steel Up to 22 ga.
Soft & Annealed Copper up to 32 oz.
Stainless Steel ½ hard up to 24 ga.
We do maintenance and repairs on brakes and equipment