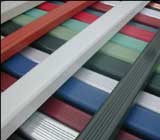 Made to measure seamless aluminum gutters available in black, white and several other colours
In addition to copper gutters, Arcan Aluminium offers a wide selection of seamless aluminum gutters and installation accessories available in many colours. All our coloured aluminum gutters are painted with baked enamel finish, so you will not have to worry about your colour cracking or peeling off. With our wide selection of colours including white, black, commercial brown, antique brown, khaki and many more, you'll find the perfect shade for your project!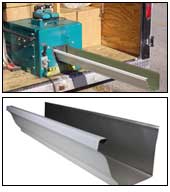 Eavestrough – Gutter Installation : Do it yourself or leave it in the hands of a Pro?
At Arcan Aluminium, we can provide all the necessary accessories for you to install your gutters and gutter protection to complete your project by yourself. With more than 45 years of gutter installation experience, we are able to share our knowledge so you can proceed with the installation safely and surely. We can also refer you to a trusted installer in your area.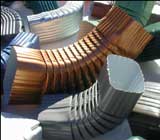 How Much Does a Gutter – Eavestrough Project Cost?
The price is calculated by linear foot. Costs for the required accessories such as elbows, nails, fasteners, etc are to be added. To facilitate installation, we can cut your gutter to the desired length. The total price varies from project to project, but what is assured is that you can save a lot of money by installing your eavestrough system yourself. If you prefer to use the services of a professional installer, we can help you find a trusted installer near you.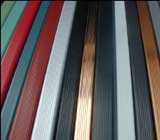 What is the Advantage of a Seamless Eavestrough System?
The main advantage of choosing a seamless eavestrough/gutter is that it will not leak. Unlike gutters purchased in 10-foot lengths at large chain stores, our system is cut to measure and no joint-connection is present throughout the length. It is very resistant and durable. We can make gutters up to 500 feet long, without joints!

We sell FLOMOR products
An innovative idea : elbows and square downspouts instead of rectangular ones. They are more efficient, more cost-conscious and save you time.
▸ Accelerates the flow of water
▸ Requires only one type of elbow
▸ Reduces your inventory
▸ Economical and saves a lot of time
With the new FloMor system, you no longer need to keep Elbows A and B in inventory. Only one model meets the requirements, reducing your inventory at the same time. Furthermore. this new configuration allows more water to flow compared to the old rectangular system. Fits easily to 4 "and 5" gutters.