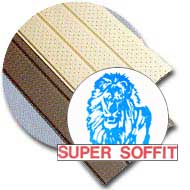 Vented or plain soffit
Arcan Aluminium offers a large selection of vented and plain soffits, including the 3-Panel Aluminum "Super Soffit". Properly installed, it provides essential ventilation and air circulation that reduce excess moisture, which can cause rotting and decay of the roof's structure. It also promotes directional air movement through the eaves and rafters of your home, helping it to stay in great shape both inside and out.
We offer a wide variety of colours and thicknesses. Special lengths are available when placing an order.
Maximum protection
Soffits provide your home with a lasting beauty that requires minimal maintenance. They protect the underlying structures of the eaves from extreme weather conditions. In addition, the aluminum soffit increases the efficiency of your air conditioner in summer and reduces the risk of damage caused by winter. Icicles and ice dams can actually damage eaves and gutters during the cold season.
Eco-Friendly Siding Product
Aluminum siding products are produced from material that is at least 90% recycled aluminum. They are 100% recyclable and can be recycled back into similar products with no loss of quality. That reduces the generation of air pollution by 95% and water pollution by 97%. Eco-friendly aluminum siding further helps the environment because it never needs to be repainted, thereby reducing the amount of paint and other maintenance-related substances from entering the waste stream.