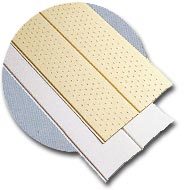 Vented or plain soffit
Arcan Aluminium offers a large selection of vented and plain soffits, including the 2-Panel Aluminum Soffit. Properly installed, it provides essential ventilation and air circulation that reduce excess moisture, which can cause rotting and decay of the roof's structure. It also promotes directional air movement through the eaves and rafters of your home, helping it to stay in great shape both inside and out.
We offer a wide variety of colors and thicknesses. Special lengths are available when placing an order.
Unique Design
Featuring a unique V-design for extra strength and rigidity, aluminum soffits are available in your choice of vented or plain style panels that lock together easily for a fast professional finish. Partnered with smooth or ribbed fascia board, your home will be protected in style for years to come.
Superior quality
When you improve your home with the aluminum soffit, you're siding with a premium-quality, long-lasting exterior with proven performance that comes from a Canadian leading enterprise. Our soffits only require an occasional rinsing with the hose to keep your siding looking good. The aluminum soffit therefore allows you to eliminate the maintenance chores required by traditional soffits and roof edges.